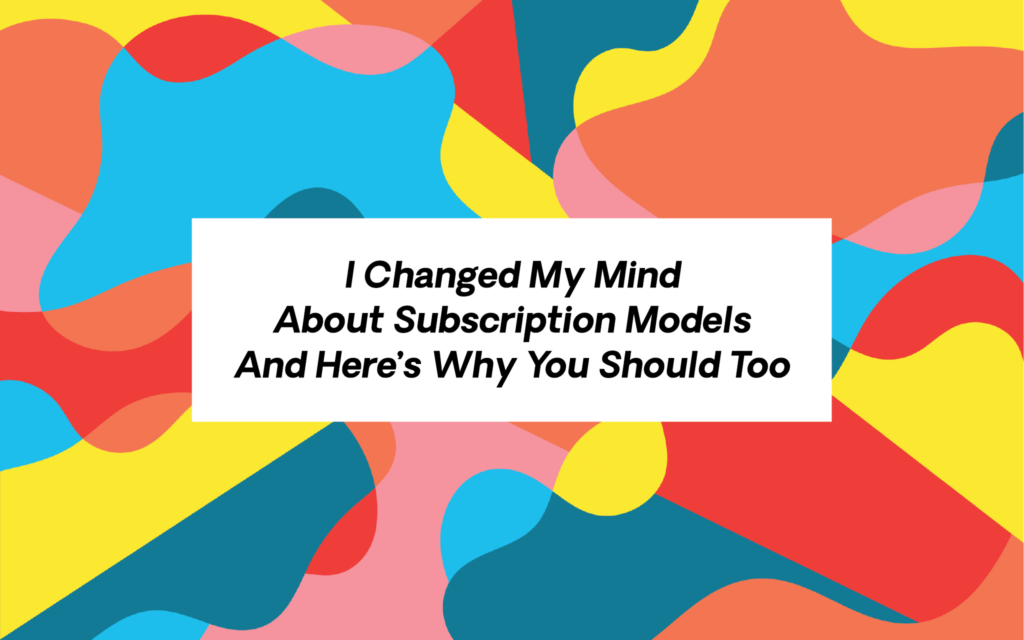 In December 2018 I drafted a fiery essay about why subscription music licensing models are bad for artists, bad for music, and might even be a degradation to humanity. As you can see, I had some big emotions about it.
Thankfully, I never published it.
Today I'm writing, and actually publishing this, to say I was wrong. I've learned a lot about the music licensing landscape over the past 3-4 years, and I've changed my mind about most of it.
Moreover, I'm excited to announce Marmoset will launch a game changing new subscription brand and technology in the new year. It's got some pretty wild, never before seen features and surprises in it too. We can't wait to share it with the world.
But first a little context. It's been a long and winding road for us to get here, so let's slow down and unpack it a little bit.
---
Marmoset's Beginnings
In 2014, four years after our beginnings as a scrappy Portland, Oregon based start-up, Marmoset challenged the industry with a fancy new online music licensing platform. At the time, it caused a little stir and we won some awards for it. Competitors even copied us. And there were a few critics and cynics out there too, who cringed at the very idea of it, believing it cheapened the value of music.
Perhaps at the heart of the matter, there's been a long growing fear of a race-to-the-bottom end game for music licensing. Or at least a perpetual cheapening of the perceived value of music. While these dark market forces are real and certainly do exist, our team at Marmoset has always worked hard to fight the good fight.
We're pretty good at it too: our team has increased the average price per license every single year. No easy feat.
The Subscription Model Boom
Now the marketplace has mostly moved on past click licensing, and today, most of the innovation, buzz, and a little criticism too, happens around subscription models.
In a short time, the growth and investment in the subscription music licensing space has quickly rocketed nearly beyond comprehension, with some early market leaders earning valuations between $500 Million to upwards of $1.5 Billion (yes, Billion). It's wild. You don't have to like it, but you certainly cannot deny the energy and velocity subscription models have in the marketplace.
Here's perhaps the most important part I got wrong about music licensing subscription models: I totally misunderstood WHO they're for.
Subscription music licensing isn't meant to serve the traditional music licensing ecosystem, like TV & Film, commercials and mainstream media for ads and brands. It's purpose is to serve the unmet needs of a rocketing new, and starkly different marketplace: The Creator Economy.
Enter The Creator Economy
What's the Creator Economy? Think internet influencers, Youtubers, TikTokers, Twitchers, Instagramers, Snapchatters and Podcasters. AKA high-volume content creators who are pushing new content and videos out daily on a wide range of new and emerging social media apps.
The Creator Economy is the fastest growing sector of the global small business economy. Slow down and let that really sink in for a moment.
With more than 50 million creators worldwide and rapidly growing, this marketplace is virtually endless. Anyone with a computer or a device can be a creator. In fact, a recent survey actually found that more American kids want to be a YouTuber (29%) than an Astronaut (11%) when they grow up. 😢
To understand the industry a little deeper, you need to know who's funding it. Advertisers and marketers of all shapes and sizes are the biggest single source financing the Creator Economy, paying influencers to promote their products, services and brands. It's estimated creator sponsorships will grow to $15-$20 BILLION by 2022.
Why does all of this even matter? Because nearly all of the content being produced features MUSIC.
To be clear, the Creator Economy is an almost completely new, distinctly different client base from what we've built our Marmoset ecosystem on. Historically, our core clients have been brands and advertisers of all shapes and sizes, including ad agencies, production companies, global brands, in addition to traditional TV and Film clients. The Creator Economy is starkly different.
Worth noting, both sectors – traditional music licensing and the Creator Economy – are GROWING. These marketplaces mostly don't compete against one another. There's no significant cannibalism or degradation happening between them. It's apples and oranges.
In doing my homework, perhaps the biggest, most insightful lesson I've learned was the result of having real life conversations with real life customers who were feeling the friction of a slow-to-evolve marketplace – including the friction of my own company.
In 2020 we surveyed and interviewed a wide sampling of our clients, including a subset who loved Marmoset, but grew frustrated and moved on to explore subscription services. It took dozens of hour-long phone conversations with actual customers for it to really sink-in for me just how different the Creator Economy is from the old school, traditional music licensing game.
These specific types of customers publish new content daily. Publishing frequently, they can't afford to pay thousands or even hundreds of dollars per song for a 30-second social media clip, especially when they're not even certain the user has the sound on in the app. Because of the immense volume of content they're creating, they don't have the time or bandwidth to do single, one-off licenses the traditional way.
They told me, time and time again, they simply don't have time to exchange multiple emails, over multiple days (sometimes weeks), back-and-forth negotiating pricing, terms, billing, and sometimes waiting even longer to receive hi-res files and PDF invoices. It's a painstakingly slow, antiquated service model.
High volume content creators want an easy-to-use, friction-free app, where they can grab music and go. Who can blame them?
Impact on Artists
I know there's one very important question some of you may be wondering about. How does a subscription model impact the economics for artists?
A new subscription product, aimed at an almost entirely new marketplace, will earn new revenue for artists, above and beyond whatever they may have been already earning via sync and other income streams. While we have no crystal ball or ability to predict the future, our conservative estimates suggest it means increasing the income of participating Marmoset artists by 10-20% to their baseline. More optimistic estimates project even better than that, especially over time, and as things grow.
While it's true the economics of the subscription model aren't as exciting as the traditional sync model, it will serve as a meaningful addition and supplement to an artist's bigger economic pie.
The bottom line is: We're growing the pie.
Annnnnd we're boldly exploring the future. Burying our heads, fighting it or spreading fear and worry isn't going to get us anywhere. We've got to stay open, keep learning, keep testing new ideas, keep exploring and keep moving forward. It's the only way.
As is always the case, the subscription model approach will not work for every artist. We get that. When we started Marmoset ten plus years ago, many artists weren't cool with regular, traditional music licensing. We'll never pressure artists to work with us on any level, subscription models or otherwise. We'd prefer to only work with artists who are aligned and just as excited about it as we are.
The Path Forward
Yes, change can be hard for some folks. I see you. Humans have been fighting change for thousands upon thousands of years. As someone important once said, "Change is the law of life, and those who look only to the past and present are certain to miss the future."
Meanwhile, new technologies are constantly emerging. Blockchain. Cryptocurrency. NFTs. Same day delivery. Electric, self-driving cars. Space travel. Vast new marketplaces are sprouting up every day, growing by leaps and bounds, while most of us are sleeping. But how quickly is the music licensing world evolving? What if we were more solutions oriented? More future oriented.
If we can be more curious about new ideas, new models, technologies and evolving marketplaces, we'll find new opportunities to support the artists we represent and the communities we're trusted to serve.
So… YES, it's true! On behalf of all of us on the Marmoset team, we are excited to announce we are on the cusp of launching a thrilling and innovative new subscription model designed specifically for the Creator Economy. We've got some pretty wild, patent-protected features and tools, all built on top of the highest quality music the world has come to love and expect from Marmoset. Stay tuned for more details — we've got big announcements on all things subscription models in the early days of the new year.
A final note: there's one very important lesson I've learned along the way during our ten-plus years in business: always keep a long term, wide angle perspective about things. As interesting of a topic as subscription models may be, that's not what it's all about. Let's not get too distracted here. Subscription models are but one piece of a much bigger, more exciting, constantly evolving puzzle.
For instance, consider the fact that we're more than ten years into this and Marmoset is STILL the only Certified B Corp in the game. We're also the first music licensing company on the planet to invest 10% of profits back to community partners. And we're the only music company brave enough to publish an Annual Transparency Report — providing a clear line of sight through the entire organization.
At the end of the day, we will continue to hold fast to our commitment to serve the artists we collaborate with and represent, the clients we partner with, and the community it all supports. Rest assured, we will never stop giving you everything we've got to make a positive impact in this world. That's our purpose.
With gratitude,
RW