Finding the right score, whether it's for a short film or a feature-length project, can be stress-free, especially when you're licensing music from a music licensing agency like Marmoset (that's right, we said it). As experts in scouring the globe for music around every theme, genre and mood, we're always brainstorming ways to make it easier on filmmakers looking to use high quality music in video.
From sharing our curated roster of artists, bands, composers, and record labels for licensing to helping you demystify the often confusing ins and outs of sync, delivering the best music licensing experience to independent filmmakers like you and beyond is our mission.
Using Music In Film
It's no secret that great music can help elevate your story. Whether it's a gritty, electric guitar anthem or a playful, pensive song to highlight a romantic scene, the right film score often helps connect the story more deeply to your audience. That being said, delving into music licensing for your film can leave you scratching your head, wondering at all the legal terms and confusing jargon. Have no fear, Marmoset is here to shine a light on process.
Finding The Right Song for Your Project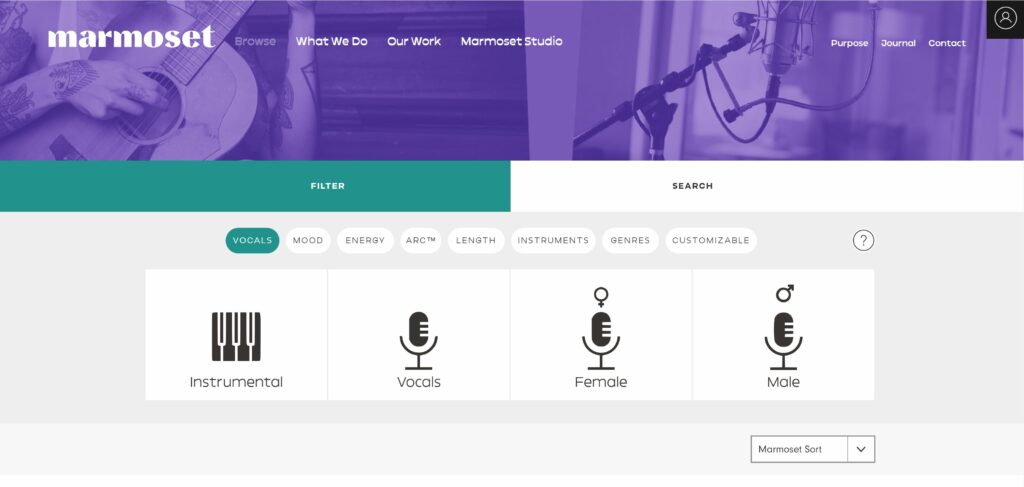 Before you dive in to a pile of music Scrooge Mcduck-style, ask yourself a few questions first.
What is this moment trying to convey?
How do I want my audience to feel?
What instruments or sound do I want?
Other aspects to consider are how long the song should be, the energy of the scene, and arc. Once you've put some thought into those guiding questions, Marmoset's search and browsing platform makes it easy to narrow down the direction you want, excluding everything you don't (check out these three tips our Creative Services team shared about finding music when you're in a time crunch). Also, signing up for an account with us grants you perks like temp free music downloads to try out in your edits, unlimited access to mixtape creation that you can share with your colleagues, plus more.
Licensing Music for Film
So you've identified the songs you'd like to place in your film, huzzah! Now what?
As you probably already know, you can't just download a song and place it in your videos. In order to legally use a piece of music for your project, you need to obtain permission from the copyright holder of the song. This can sometimes be an endless rabbit hole of hunting down the song creator, rights holders, or awaiting a response from record labels, but Marmoset provides a simplified and different approach to the process by offering several different licenses that will cover your film project's usage with the click of a button.
Types and Costs of Music Licenses for Film
Depending on your film project, we offer a few music licensing options through our click licensing platform.
Independent Film License:
Permitted Content: You are an individual wishing to license one master recording and composition embodied therein ("Musical Work", as defined in the attached Standard Terms and Conditions) for the creation of an independent film or trailer, outside of a formal film studio system, either short or feature length.
Non-Permitted Content: The creation of any film being funded and/or released by a formal film studio, or any commercial use relating to a business, non-profit, product or service. Total project budget may not exceed $250,000 USD (in line with SAG Ultra Low Budget Productions).
# of Spots: Full duration use in One (1) film or trailer
Usage: Film Festival, Unpaid Web
Lifespan: Perpetual
Notes: If your film should be picked up for distribution, or shown outside of the confines of a film festival, please contact creative@marmosetmusic.com.
Cost: $249.00
Students License
Permitted Content: You are an individual wishing to license one master recording and composition embodied therein ("Musical Work", as defined in the attached Standard Terms and Conditions) for the creation of student film or an audiovisual project.
Non-Permitted Content: Not for use by educational entities for promotional use. Does not include Film Festival distribution (please reach out for a quote).
# of Spots: Single (1) video use, does not include cutdowns/edits/lifts/versions
Usage: Exhibit/Installation, Unpaid Web
Lifespan: Perpetual
Cost: $49.00
If none of these sound like the right license for you, don't sweat it! Our Creative Services team can build a custom music license for your project.
Music For Your Next Film Project
Ready to dive in and find the perfect sound track for your film? Check out this mixtape we curated to help jumpstart your search.