Featuring the song "Is/Was" by Marmoset artist Deadwater
Meet Bay Area filmmaker, Adam Warmington. Marmoset spoke with Adam recently about his Vimeo Staff Pick film, "A Lockdown Lullaby", a snapshot of the COVID-19 lockdown with his family this past spring. While chatting, Adam also talked about how he chose the right song for this film, shared some much needed advice and divulged some interesting facts about himself (did you know his wife's uncle is John Hughes?!).
Check out the short film, then read the interview below.
Marmoset: Tell us about yourself. Where are you from, where are you living these days, and what type of work keeps you busy?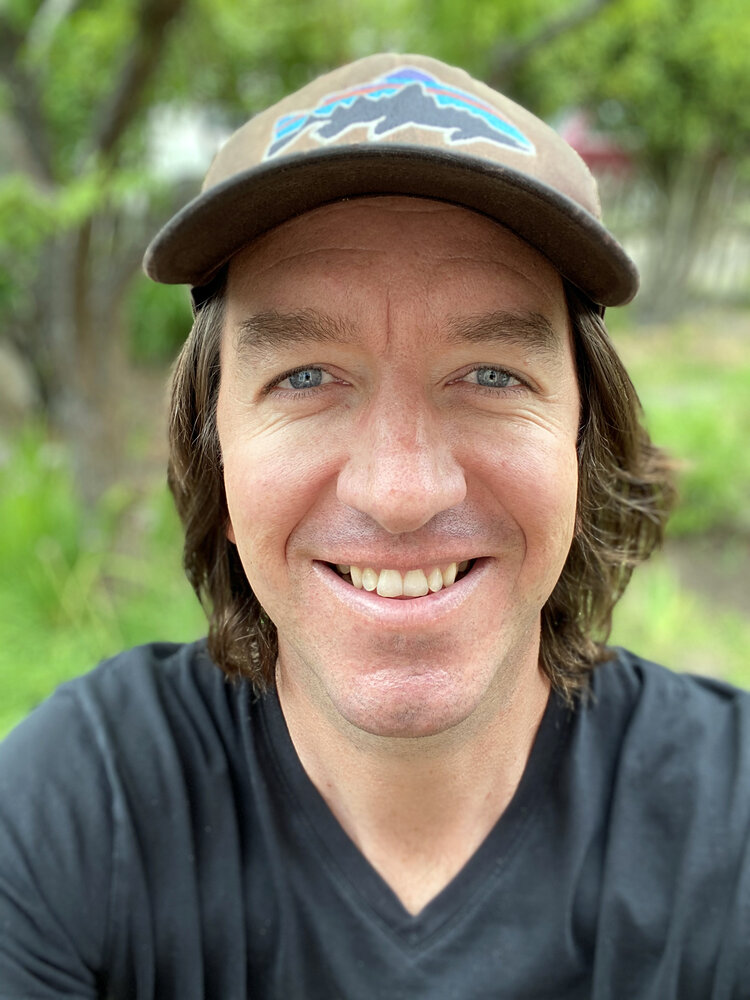 First off, thanks for having me. I've always loved Marmoset and it's super cool to be in conversation with you guys.
I'm from Bristol, England. It's an amazing city, very multicultural with a strong Afro-Carribean community. Born out of that multiculturalism, Bristol is the birthplace of Trip Hop (Massive Attack and Portished). It's a cool town, kind of like Portland or Austin… a place where people want to live or are eager to share that they've spent time there. For the past 15 years though, I've lived in the SF Bay Area. My wife is American and we met while both working at Aardman Animations (Wallace and Grommit) in my hometown.
Regarding what keeps me busy…. I was on track to be a traditional commercial director. I was repped by a couple of different entities and fortunate to have directed a few spots for a few big brands. I feel like I deepened in my craft meaningfully – but my heart wasn't fully in it. For the past few years I've shifted my intention towards telling stories about people or organizations who are trying to enact change in meaningful ways.
What moved you to create this project? Where did the idea start?
The bulk of the work I am gratefully hired to create is centered around authenticity and human emotion. My collaborators and I go to great lengths to find the soul of a project, to find the moments between the moments where people let their guard down and feel fully comfortable and natural. During lockdown I was craving making something about this moment. I was seeing a few different versions of the same thing over and over. Be it empty streets or the countless brands (sad)vertising 'we're all in it together and will come out stronger'. It occurred to me that the most honest thing I could do was to turn the camera on my family. What is more authentic and honest than that? Plus all the subtle ninja work we do to ensure everyone is comfortable, confident and happy was already pre-baked in to the talent 😉 It's not a deep documentary story. There's no real inciting incident nor some of the other narrative hits that you look for in a film. I was just trying to express or rather let Dylan express what was going on in his head during this moment. If anything it's quite surface-level… quite simple, vanilla even. But that's why I love it. The film doesn't try too hard. It's just a portrait of a kid – my kid – during a very strange moment in time.
What were some challenges you faced while working on A Lockdown Lullaby?
The only real challenge was wrestling my urge to fabricate moments and scenes. I was guilty of this in a couple of instances, but I really wanted the film to feel honest and raw. I wanted to capture the kids crying, my wife adjusting her hair in the camera (well I didn't want that specifically, rather I wanted moments like that… Verite). I wanted Dylan's spoken ramblings in all their unfiltered glory. But I also wanted the film to look beautiful. I wanted to accurately capture what we were doing on a daily basis. Fishing, riding bikes, …Moments that were/are inherently beautiful. To simplify, one of my biggest challenges was trying to make an honest verite short that also looked beautiful – as the two things can sometimes be at odds with one another.
How are you balancing it all? Parenting, work, pandemic, the year 2020…
How am I balancing it all? Well, I think the temperature of society has changed since I made this film. Then, it was all about just staying close and tight and trying to have fun and make the most of it. Getting up to the lake and fishing, riding bikes… Creatively and professionally, I was feeling stagnant – hence making this film. Now it's a few months on. The BLM movement is blazing through society, and rightly so. The most important election in a generation is imminent. The west coast (where I live) is on fire and many of the above ways of recreating now feel like a luxury as the air is so bad. And yet I remain an optimist, and I believe all human beings are inherently wonderful. And so, I can't help but think a renaissance of some form or fashion is on its way.
What do you hope people will take away from your film?
Whatever they want! Going into it, I said to myself, if this just becomes something that makes my mum and wife cry, that's enough. What I mean by that is that if it was just almost a personal visual journal entry of this moment, that would suffice. As I was editing it I started to wonder if it might be more universal and resonant then I anticipated.. As I dug in, it felt almost almost impossible for me to critique the film objectively. To that end, I solicited advice from friends who don't have kids, other filmmakers, other parents… to try and get a handle on what this was exactly. Sorry for the ramble – to answer the question more directly, what I was trying to say in this film, consciously or not is that I was having both a really hard and really wonderful time at the beginning of the pandemic. I was freaking out about the state of the world and the ones I love… but also FINALLY getting a chance to slow down and spend more time with my wonderful family. I, like most creatives am always either onto – or looking to get onto – the next project, and lockdown felt like a forced introspection and pace change I didn't know I needed until I was in it. Then there's Dylan who summarized all that waffling above in one succinct sentence (as 6 year olds do) – "Things are pretty weird right now, but also kind of awesome".
Looking back, is there anything you'd do differently?
Not really. I guess if I'm splitting hairs I would have captured better audio… But that could have resulted in different delivery from Dylan. Context – for a couple of weeks, as I put him to bed – I would put my cellphone on my chest and record a voice memo as we chatted. He had no idea I was recording and thus it was always just a regular bedtime… a safe space. Had I used a shotgun or lav, he'd have clocked onto what I was up to and could have filtered it. So I guess I'm going back on my original answer to this question – and the answer is no.
Tell us about the song choice. What were you looking for and why did you choose the one you chose?
Ah man. This is hard to articulate. It was 100% about the 'feeling'. I knew I wanted a somewhat 'quirky' or childlike theme but also still wanted that really cinematic (whatever that means) quality. I was looking for a track that would add to the emotion of the film rather than distract or detract from it. Something that almost felt like the soundtrack in Dylan's brain. Kudos to you lot… I pulled a dozen or so selects and maybe 3-5 of them worked amazingly. I layed out different versions, slept on it and returned to them. It's almost intangible how the track I love the most rises to the top. Again it's just a feeling, it's just 'taste'. Now I cannot imagine A Lockdown Lullaby without "Is/ Was" by Deadwater. It's become part of the fabric of the film.
Switching things up, what albums have you been listening to lately? What are your top recommendations?
Honestly, I'm pretty out of the loop of new music. Though, an area of music that I find foundational and return to more than any other is the Delta Blues. Robert Johnson, Lightnin Hopkins, Elmore James, Skip James – these artists and the songs they created are utterly timeless. There is an honesty to that moment and that music that for me hasn't been repeated. Well, OK there was the 60's and Punk and the Golden Era of hip hop – but still for me that music is like no other. I've also been listening to a lot of Fela Kuti of late. And my go to late night album is Kind of Blue (Miles Davis). Oh 'The Greensleeves Document', curated by Andy Smith is awesome. It's kind of the best of that UK / Afro-Carribean Sound-System / Dancehall sound.
What advice would you give to others starting out in your profession? What's some of the biggest lessons you've learned?
I've got a piece of advice that may ruffle feathers. You don't have to play the game the exact way the industry wants you to play it. By that I mean, you don't have to be a PA, then a second AC, then a first AC, then an operator, then a DP, then maybe a director by the time you're 60. Yes, that is a very viable pathway if you want to make a name for yourself in the high end commercial and/or feature world. In fact, if you want to work on features I would advise the above. However in this new world of 'content' there is so much opportunity that if you have talent and an opinion there are a myriad of other ways to stay busy and stay relevant.
The main lesson I have learned is to work with people you love and trust. They can be people you've worked with for years, or new people you just have a feeling about. I have zero tolerance for big silly egos on set. I would rather work with someone who is a sweetie-pie, solid yet green, than an OG industry person who is overbearing and over stressed.
What's something people would be surprised to learn about you?
A) My wife's uncle was John Hughes (Ferris Bueller, Breakfast Club). Ferris Bueller is based on my mother-in-law.
B) I have been bodyboarding for 25 years. Yes it's the rollerblading of the surfing world, but I don't care and neither should you.
C) I have only worn shorts or sweatpants since March.
To learn more about Adam and his work please visit his website or stay in touch with him via instagram: www.adamwarmington.com / @adamwarmington